Arcata Airport Northwest Cam, McKinleyville (California) KACV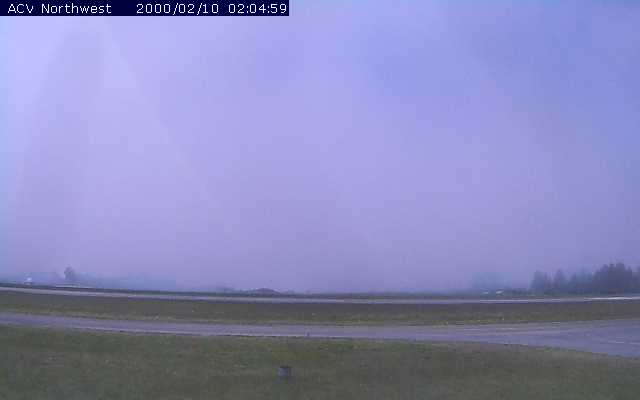 This image refreshes every minute during the daylight hours. Clicking on the image toggles a Clear Day Reference image. Archive videos are here.
"Passenger discomfort at landing between two walls of flame was no doubt a major reason the airline eventually rejected the use of FIDO."
That statement about the United Airlines fog dispersal experiments at ACV certainly catches the eye. But the "walls of flame" was only one of several technologies used to assist landings at this airport. In December 1947 a Southwest Airways DC-3 flying into this airport made the world's first blind landing on a scheduled commercial airliner using Ground-Controlled Approach (GCA) radar, Instrument Landing System (ILS) devices and Fog Investigation and Dispersal Operation (FIDO) oil-burning units adjacent to the runway.
| | | | |
| --- | --- | --- | --- |
| | | | |
| | | Northwest Cam | |
Live Flight Tracking Fortuna weather and forecast
Click for ACV Aviation Weather

Arcata Chamber of Commerce
Eureka Chamber of Commerce
Fortuna Chamber of Commerce
Explore the Redwoods
Thumbnails, archive videos, and Aviation Weather courtesy of wunderground.com.
Contact person for this web site: sunnyfortuna@gmail.commore cams