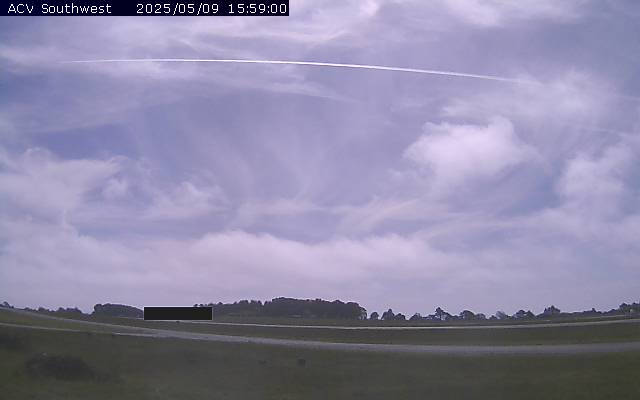 This image refreshes every minute during the daylight hours. Clicking on the image toggles a Clear Day Reference image. Archive videos are here.
Coast Guard Air Station Humboldt Bay is a United States Coast Guard Air Station located at the Arcata-Eureka Airport in McKinleyville, California, 16 miles north of Eureka in Humboldt County. The station is the site of the command center for all Coast Guard personnel stationed and assets located on the coasts of Humboldt, Mendocino, and Del Norte Counties. It is one of five air stations in the Eleventh Coast Guard District.
Air Station Humboldt Bay consists of 3 MH-65C helicopters and the primary mission is search and rescue (SAR). Most cases are dramatic and lifesaving in nature due to the generally poor weather conditions and rough seas prevalent on the northern California coast; large waves are quite capable of slapping a helicopter out of the air.
The Air Station also provides MEDEVAC support for injured personnel in the mountains surrounding the Group area. Secondary missions include aerial support for Aids to Navigation, Maritime Law enforcement, and Marine Environmental Protection along 250 miles of rugged coastline from the Mendocino-Sonoma County line north to the California-Oregon border.
The Command Center located at CGAS Humboldt Bay monitors for distress 24 hours a day and directs Coast Guard boats and aircraft to respond to any maritime emergency in the region; along the coast, well offshore, or even inland. The Group / Air Station also works with many local, state and federal agencies as needed. from Wikipedia