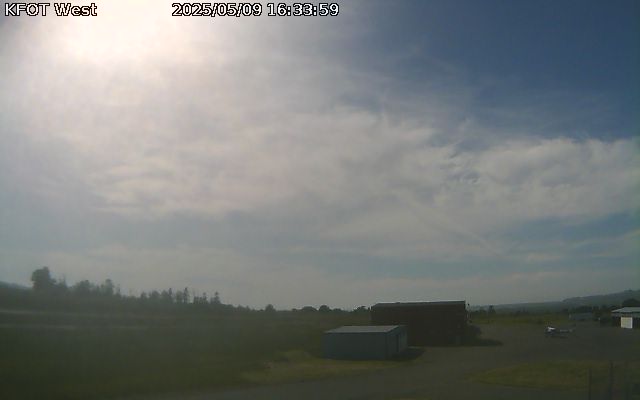 This image refreshes every minute during the daylight hours. Clicking on the image toggles a Clear Day Reference image. Archive videos are here.
There be awesome sunsets here...
This image originates from the magnificent Vivotek IP8332 camera. We installed three of these at the Arcata Airport also. Near the horizon and above those parked planes we can now make out the Eel River flowing to the left out of the Delta and towards the Pacific Ocean, also the Humboldt Creamery complex and the Bear River Casino on Table Bluff. Fernbridge is right next to the Creamery. We can't quite see the ocean, seven miles away, but at night we can see the lights from the fishing boats. When the Pacific is in a boisterous mood and the sun is right we can see the spray.
And that salt spray can be an issue here. At the base of this bluff are three bridges spanning the Van Duzen River. One carries the old Northwestern Pacific train tracks. The other two carry Highway 101. In 1901 the San Francisco Bridge Company erected two steel Camelback truss spans there, with wooden trestle approaches and a narrow, 16-foot roadway to carry wagons and those newfangled automobiles on what was then called the County Road. Apparently the company didn't do its homework because by the early 1920s the steel spans were badly corroded from the salt-laden air and the wooden deck and approach spans were rotted. The bridge was replaced in 1924, and during its construction, that new bridge was almost destroyed by floods. But that's a story to be told another time.