Sky and Airport Webcams!
This remote and rugged area of our great country has some of the most breathtaking scenery; an awesome combination of ocean, rivers, and heavily-forested mountains which is enjoyed best while flying over it in a small airplane. But along with it comes some very unpredictable weather and rapidly-changing sky conditions. Because of the area's many microclimates, it may not be possible to determine optimum weather conditions at many of the smaller uncontrolled airports.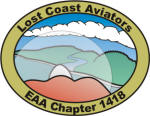 Lost Coast Aviators
But now pilots have the ability to determine weather and sky conditions at their remote destinations before leaving the ground. Some airports have received weather webcams, thanks to local aviation groups and other supporters. It is the goal of the Lost Coast Aviators to improve aviation safety and increase pilot awareness and decision making capabilities by installing cameras at general aviation sites, and with more in the years to come. Their continuing commitment is appreciated. We also wish to extend a heartfelt and sincere thank you to all others who helped to make this achievement possible.
Cams have been installed at several Humboldt and Mendocino County locations. More sites in coastal Northern California and Southern Oregon are under consideration and are being planned.
Hey, we want these at our airport, too...
Three of the four cams at the
Garberville Airport
We build and install the cams for you. All you provide is the power and an Internet connection; technical details are here. We build the web pages for you and host the images on one of our servers, and you can also place the images on other web sites and apps. We do it all and we do it right, all you have to do is keep the glass clean.
These don't have to be at an airport nor are they used exclusively by aviators. Mariners and recreational boaters are checking out the Shelter Cove cams to determine the conditions of the Pacific Ocean before making plans to put their boat in the water.
Sponsoring a cam is an excellent and inexpensive method of placing your business name or logo in front of thousands of viewers, both local and worldwide. Have a spectacular view and want to show it off? Were you wanting a cam on Main Street?
Contact us, sunnyfortuna@gmail.com.
<!script type="text/javascript"> <!script type="text/javascript" src="http://pagead2.googlesyndication.com/pagead/show_ads.js">
Contact person for this website: sunnyfortuna@gmail.commore cams