Who We Are and What We Do
Hi. We're a small business located in Fortuna, a charming little town on the rugged north coast of California. Before it was called the Internet, our computers were communicating with other computers using dedicated telephone lines, usually with long distance charges. We made files available and operated one of the first Bulletin Boards in the area.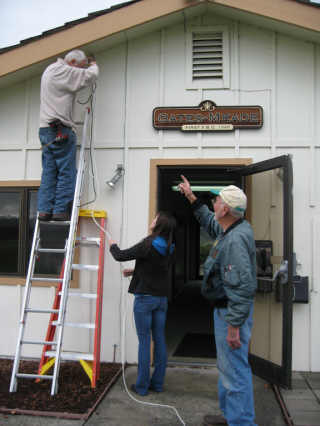 Hans, Lindsay and Oakley installing cameras at the
Rohnerville Airport
Photo by Randal Locke
Eventually browsers came along, and computer monitors began to actually show images on web pages. We impatiently waited to install our first webcam until around the turn of the century when one-way broadband finally came to the area. Webcam prices were then unaffordable, so we mounted an analog camera in a wooden housing, stuck that on a tripod on the roof and occasionally turned it with a Radio Shack antenna rotator. A computer was used to process each image and upload it to the web site. Due to what little data crunching and bandwidth we had, picture uploads were at first limited to one every five minutes. That camera is still in use today.
Today, smartphones have more computing power and memory than those old-timey workstations we used. So do the cameras that we install. The quality of today's cameras and the versatility of the software make it very possible to share your views with the rest of the world. The cameras do all the heavy lifting with the only requirement being a power source and an Internet connection.
And that's where we come in. We have the experience and the skills to provide you with whatever level of service you need. We have multiple web and streaming servers to present your product to the world.
We provide much more than cameras. We install weather stations and put their data on line, put live audio on line, rent out our streaming server and web server space, build networks and web sites, more. We have years of experience. Let us know if we can help you.
Contact person for this website: sunnyfortuna@gmail.commore cams