These before and after images are not current, live images are here.

We couldn't do it without them. The salt deposits degrade the image, and the amazing crew shows up every few days to clean the glass on all three cameras. The salt spray immediately sets to work to cover things up again.
The crew consists of the U. S. Coast Guard Auxiliary, Flotilla 87; among other things, they pay a lot of attention to lenses, being responsible for cleaning the Pt. Arena lens, cleaning and maintaining the Pt. Cabrillo lens, and, of course, the webcam lenses.
The native plants on this little peninsula have adapted to conditions imposed on them by the atmosphere and the rocky soil. Lighthouse keepers have tried mightily to grow vegetables here, but most attempts were doomed.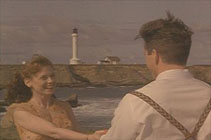 Image from the Warner Bros. movie trailer for "Forever Young".
But you should come visit! There's a lighthouse to explore, a museum and curiosity shop, you can get married here, maybe in that little gazebo in the picture above, it's on the edge of a cliff and just above the breakers. It has a very romantic history, see the movie trailer.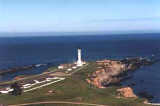 Image courtesy of Point Arena Lighthouse.
You can even rent the former lighthouse keepers' cottages for a day or for a week. It's a great place to have a small retreat or to just plain decompress. It's easy to get to, on a nice road only a mile or so off Highway 1 along the rugged Mendocino coast. There are spectacular vistas, whale watching, cliffs that rise out of the ocean, lots of sea life, pelicans, cormorants, much more; you really need to experience it for yourself.