This camera has a good horizon view of the Wildcat and Bear River Ridge weather.
This image refreshes every minute.
Archive videos are here.
This camera looks to the south-southwest and is located above the north end of 14th Street, with the blue buildings of Fortuna Union High School visible at the other end. The view showcases the weather and sky conditions over Bear River Ridge and the Wildcat on the right. Mt. Pierce, a little over 12 miles away, is on the horizon in the left half of this picture.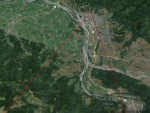 This picture will automatically update every minute, and the camera also provides a High Definition picture with more detail. The image on the right enlarges to show the camera angle.
The tall cell tower and the City's Corporation Yard are in the right side of this image. The Eel River is directly behind them; use the River Lodge cam to see what the Eel River is up to, or check it a bit further downstream with the Fernbridge cam at the Humboldt Creamery.
That flat bluff in the distance and on the left side of this image is about 3½ miles away and is home to the Rohnerville Airport and its other cameras. Downtown Fortuna also has a cam on Main Street (just a few blocks from here), and we also provide a camera on Fortuna Boulevard.
We wish to thank the provider who has made available this location and the bandwidth so we can we bring you this wonderful view of Fortuna and its weather!